LEAN FACTORY LAYOUTS – Line Design, Line Balancing.
We Can Help You Improve Floor Layouts and Warehouse Organisation…
.
The KEY to cutting Non-Value Waste and to Reduce Costs – is Shop-floor and Inventory Organisation…
We Re-designed 3 warehouses, implemented inventory stock level organisation – cash gain circa £1.9M
We Implemented Process improvement giving 27% extra – projected sales improvement worth £2.0M
.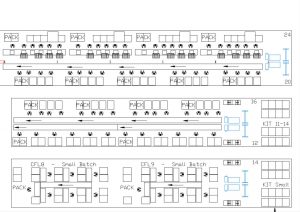 What.are.your.daily.issues ?
Bottlenecks
Waiting Time
Looking For "Stuff"
Workplace Not Organised
We.can.help you:
Design A Factory Layout
Improve Workplace Layouts
Design Single-Piece-Flow-Lines
Improve Inventory Organisation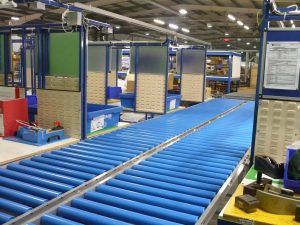 Financial Benefits:
Improved Cash Flow
Improved Productivity
Improved Customer Service
Improved Global Growth Potential
Services We Offer:
Factory Floor Layout Design:
We can help you create a LEAN  factory layout that will improve production flow. We can design balanced flow-lines, single-piece-flow lines and re-engineer a work cell or bench layout to reduce bottle-necks and improve 'End-to-End' production time… Change will also reduce your environmental footprint…
.
Plant and Equipment Layout Design:
We can help you design a LEAN plant and machinery layout. We can analyse Overall Equipment Efficiency, implement TPM / SMED to reduce machine breakdowns, stoppages, scrap and rejects. This will improve machine reliability, machine uptime, product quality, production numbers, productivity and profits…
.
We Can Help You:
We look for "Non-Value Waste". Waste in Time – Inventory – Movement – Waiting – Over-processing – Over-production – Scrap – Rejects – OEE – Machine Breakdowns.
We give hands-on-help:- We Identify opportunities – Measure present state situation – Analyse and Develop ideas – Implement Sustainable Change…
Financial Benefits:
We've generated for our clients between £50k and £2.0M per project…
For over 30 years we've designed and implemented "Continuous Improvement" Projects.
Atherton Management Services Ltd:  We help people in business improve their business.
Please Contact Us, tell us your issues – tell us how you would like to improve your business.
For More Information – Please call us…  UK – 07970 333 466